HVLP / XVLP
Wagner XVLP & HVLP systems offer the best atomisation in the industry…
Whether it's intricate woodwork, cabinetry and furniture or metal railings, piping and lockers, fine finishing is a big step up from ordinary coating applications, one that requires power, precise control and absolute dependability. For these reasons, professionals rely on Wagner fine finishing sprayers and equipment. Our sprayers incorporate the durability and reliability you depend on to get finishing projects done quickly and perfectly the first time. Whether your applications include touch-ups, occasional woodwork finishing or full-scale industrial jobsite or workshop projects, we have fine finishing sprayers and equipment designed and built for your needs.
The lightweight and portable HVLP (High Volume Low Pressure) sprayers are designed and manufactured to apply a broad range of fine finish coatings–from stains to paint–with speed and pinpoint precision.
Traditional HVLP technology from Wagner produces very low psi and coupled with the Magnum II gun provides excellent atomisation power. The Dual Filtration System is the most advanced in the market. It uses two filtration chambers for atomising and cooling air for a cleaner, smoother finish.
The XVLP range puts the power of airless and the control of HVLP into one versatile sprayer creating the first multi-tool for painting professionals. XVLP's advanced technology was developed for professionals who spray a variety of coatings with multiple applications. Just pull the trigger and your Interior, Exterior or Fine Finishing project will finish with ease.
Shop HVLP / XVLP by series
FINECOAT
High-end woodworking, cabinetry, and furniture finishing projects require high transfer efficiency. FineCoat delivers lightweight, portable HVLP sprayers that apply all fine finishes with speed and precision.
learn more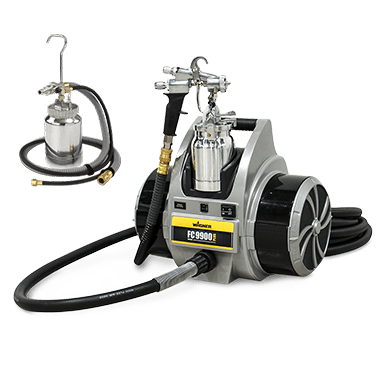 XVLP
The Wagner XVLP system (consisting of a turbine and various spray attachments) means that varnishes, high viscosity lacquers and standard water based paints can all be processed through a system to achieve a quality finish that a painting professional would expect.
learn more