Exterior Sprayers
Wagner Exterior Sprayers use High Pressure Airless Technology.
Paint is atomised by an electric piston pump under high pressure (1200 PSI or higher).
Ideal for small to medium decoration and renovation work around the house and garden
Suitable for spraying water based paints (acrylics) but will also spray oil-based paints with purchase of additional swirl valve
High volume of paint in a short period of time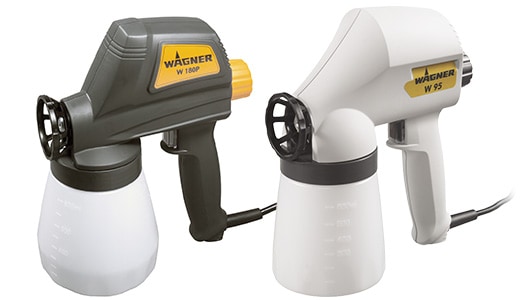 Can the Exterior Sprayers be used indoors?
The Exterior Sprayers range are not recommended for spraying indoors
Do I need to thin the material?
This varies depending on the type of paint and the project in which you are trying to complete. The addition of water or mineral spirits to the paint may be necessary in order to thin the material.
How should I clean my Exterior Sprayer?
Use the appropriate cleaning solution (warm, soapy water for acrylic materials; mineral spirits for oil-based materials). Always check the back of the paint container for appropriate cleaning solution
Where can I get parts for my Exterior Sprayer?
Parts can be purchased through your local retailer. Please call us at 1800 924 637 for stock inquiries.
What is the warranty on the Exterior Sprayer range?
Exterior Spayers offer a 3+1 year warranty, giving you piece of mind that your sprayer will see you through many DIY paint projects! To learn more about the warranty, or to register your product please visit the Warranty page at www.wagneraustralia.com.au